Xyz Himirror Plus With Remote Control
Finance from £11.19 a month. (14.9% APR) representative.
Purchase 6 or more to qualify for business leasing
Xyz Himirror Plus With Remote Control
QuickFind: 820044
Mfr part code: BM619CALT0E

More than just a mirror
HiMirror helps you assess your skin's condition
Smart-ambient makeup light
High Resolution Camera
Allows for 6 people to log in to the device
Product Description
Xyz Himirror Plus With Remote Control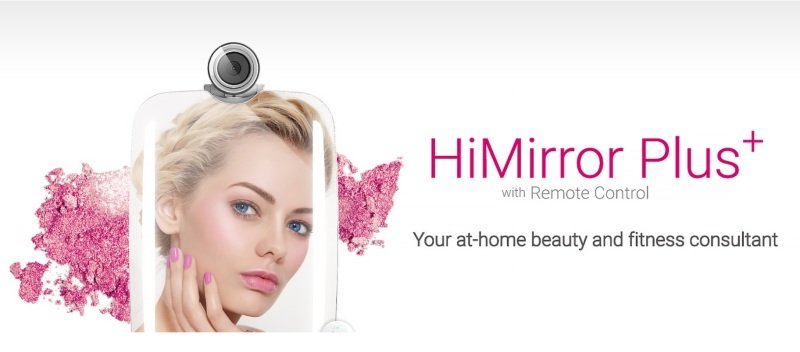 Smart-Ambient Makeup Light
HiMirror Plus+ comes with innovative and gorgeous LED lighting to simulate five different lighting scenarios: sunset view, outside on a sunny day, brightly lit office, shopping centre or supermarket, and restaurant or party venue. These settings help you apply your makeup appropriately for the occasion and location.
Sunset View - 2500k-2700k

Restaurant view/party venue - 3000k-3500k

Shopping mall/supermarket - 4000k-4500k

Brightly lit office - 5000k-5500k

Outdoors on sunny days - 6000k-6500k
More To Love
With expanded memory, HiMirror Plus+ allows for 6 people to log in to the device while each user's personal data is stored separately in a safe and private environment. Expanded memory not only allows for more users, but can also store a longer period of your skin analysis results, allowing you to better track your improvements over time.
Enhanced Wireless Connection
HiMirror Plus+ has two transmitting antennas and two receiving antennas (2X2), allowing it to move data at twice the speed with a more effective connection over longer distances.
HiMirror Innovative Skin Analysis Engine
More than just a mirror, HiMirror helps you assess your skin's condition, including wrinkles, fine lines, clarity, dark circles, dark spots, red spots and pores, so that you can effectively and efficiently target problem areas and move toward your beauty goals.
Ultimate Control
You choose how to use! With patented gesture control, voice commands and a new remote control, operating your HiMirror has never been easier. No more smudges or fingerprints on the mirror.
The Power of Big Data
By collecting analytics from all over the world on skin conditions and skincare products that actually work, HiMirror harnesses the power of Big Data to develop the very best in custom-built skincare routines and skincare tips.
Your privacy is our priority.
HiMirror comes with built-in system and data protection and includes a robust network security system with third-party certification to ensure full confidentiality of your identity. The camera can only be activated with an individual security key and a camera lens cover is also pre-installed to further prevent invasions of privacy.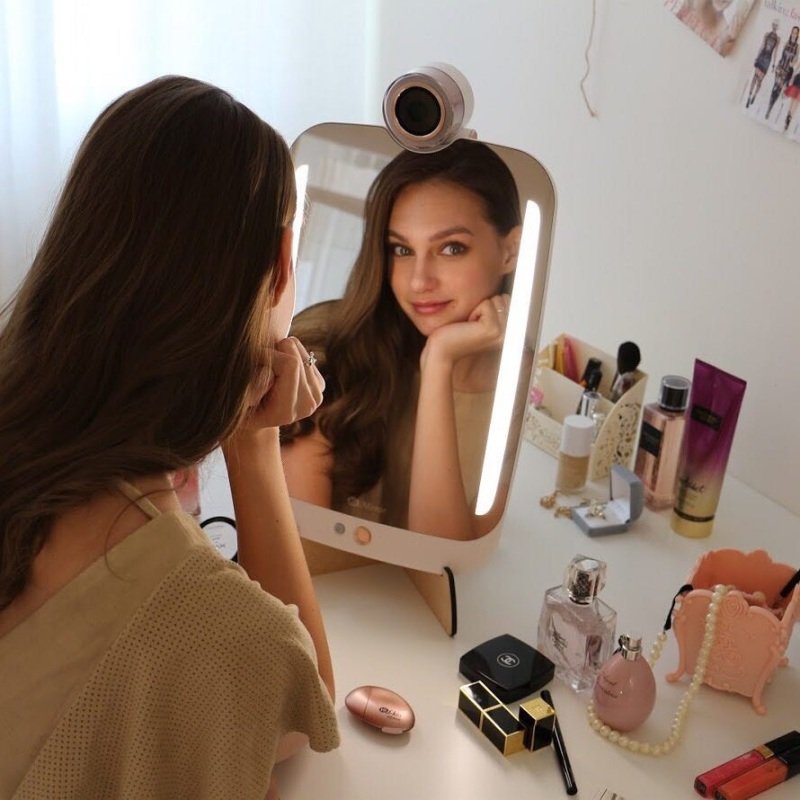 Easier than ever
Easy set-up with QR code

Simply take a photo and receive your skin analysis results in seconds.

Simple and straightforward to install

A convenient and secure way to log in - your face and voice are the account passwords.
Developed with the knowledge of expert consultants
HiMirror was developed under the supervision of professional consultants in the fields of dermatology, cosmetics (applications and raw materials), skincare and medical beauty, making HiMirror a quality personal skincare consultant you can trust.
Beauty On The Go
HiMirror allows you to sync your skin analysis results, including month-history pictures and solution data, with your smart phone so you can receive beauty and fitness advice anytime, anywhere. It also provides you with timely tips, including the weather forecast and UV index.
My Virtual Beauty Box
Tired of products that don't deliver real results? You can now measure and track product performance and skin improvements with this one-second smart management system. The world's first smart beauty box contains data about over 10,000 global skincare products. Using the camera, simply scan the barcodes on your products to add them to your box. It's so easy.
Magnify Your Beauty
Satisfy your beauty curiosity with HiMirror's specialised lens and magnifying feature. Two new zoom options now available (Actual photo size, 2x, 3x).
Personalised Entertainment Zone
Make your HiMirror experience even more enjoyable! You can relax to music (even Spotify), leave personal audio/video messages, customise clock mode wallpaper with your favourite photos or keep up with what's happening in the world during your skincare or makeup routine.
Ask an Owner
Xyz Himirror Plus With Remote Control
Product Discussion
Xyz Himirror Plus With Remote Control
Our comments box is a great way for you to view other people's feedback about products on Ebuyer.com, and add your own.
This tool is open to everyone.
You are responsible for the contents of your comments and any consequences that may arise as a result of them.
Comments that contain any of the following will be deleted: terms considered explicit and inappropriate; defamatory, obscene, unlawful, harmful, or offensive.