Ebuyer Recommends
Full-Tower CM Storm by Cooler Master Computer Cases
(1)
Free Delivery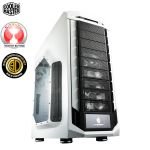 Unique 90 degree rotatable 5.25/3.5 Combo Cages
Top panel fan controller
2x front 120mm fans included
Top 200mm fan and rear 140mm fan included
Maximum VGA card length: 322mm / 12.7 inch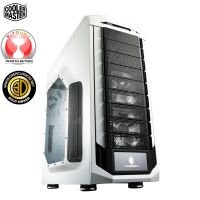 Unique 90 degree rotatable 5.25/3.5 Combo Cages
Top panel fan controller
2x front 120mm fans included
Top 200mm fan and rear 140mm fan included
Maximum VGA card length: 322mm / 12.7 inch
QuickFind: 388851 | Mfr part code: SGC-5000W-KWN1
Return to top
Full-Tower CM Storm by Cooler Master Cases from Ebuyer.com
CM Storm by Cooler Master can provide you with the ideal Full-Tower computer case to accompany your high performance PC.
Flexibility
With a computer chassis made by CM Storm by Cooler Master, you can have the flexibility to experiment with your custom built machine. With a design specifically leaning towards user-friendly features, you can install and remove internal components without having to battle with a case that is too ridged or inaccessible.
Compatibility
Alongside the flexible nature a CM Storm by Cooler Master can bring your bespoke build, these Full-Tower chassis' are built to be compatible with all the latest tech that you might wish to incorporate into it. A Full-Tower case from CM Storm by Cooler Master can match the latest internal components for sophistication, allowing you peace of mind when looking to enhance the power of your PC.
Design
Further to the quality of CM Storm by Cooler Master's computer chassis, the design of each Full-Tower case will not only be sleek and stylish, but durable and inventive. CM Storm by Cool Master ensure all materials are practical, reliable and ultimately aesthetically pleasing to ensure a striking appearance to your gaming or power based PC.