Headsets & Gaming Headsets
Headsets and Gaming Headsets from Ebuyer.com
For Skype, gaming and internet telephony a good quality headset is essential. Similar to a headphone, the headset incorporates a microphone and here at Ebuyer we have a huge selection to choose from.
Read more...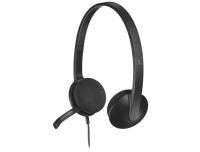 Plug-and-play USB
Digital stereo
Flexible, rotating, noise-canceling microphone boom
Lightweight design
QuickFind: 408776 | Mfr part code: 981-000475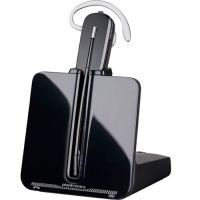 Customizable wearing options
Up to 7 hours of talk time
Please see 193280 for Handset Lifter
QuickFind: 281775 | Mfr part code: 84693-02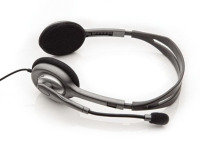 Noise-cancelling microphone
Full stereo sound
Microphone with flexible,rotating boom
Adjustable headband
3.5 mm plugs
£ 11.94 inc. vat
£13.88
save £1.94
£9.95 ex. vat
£11.56
save £1.61
View Product
QuickFind: 222456 | Mfr part code: 981-000271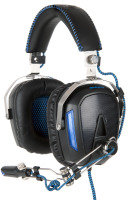 7.1 channel simulated sound
3 metre cable with USB connection
Inline controls for mic and volume
Built in LED effects
Teamspeak certified
£ 34.98 inc. vat
£49.97
save £14.99
£29.15 ex. vat
£41.64
save £12.49
View Product
QuickFind: 630121 | Mfr part code: ESAB-90Y8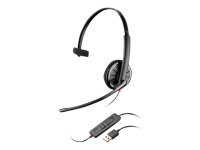 Lightweight metal headband offers durability and a customizable,...
Intuitive inline controls to answer/end calls, control volume, and...
£ 25.49 inc. vat
£29.49
save £4.00
£21.24 ex. vat
£24.57
save £3.33
View Product
QuickFind: 351186 | Mfr part code: 85618-02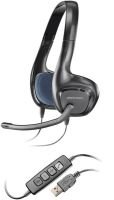 Extremely lightweight and comfortable
Skype Certified
Answer and end Skype calls right from the headset
Digital Signal Processing
QuickFind: 290184 | Mfr part code: 81960-15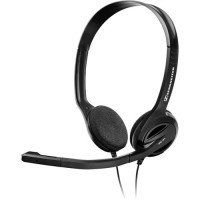 Sennheiser PC 36 Call Control
Headset ( semi-open )
The PC 36 Call Control also lets you enjoy music, movies and games...
QuickFind: 348954 | Mfr part code: 504523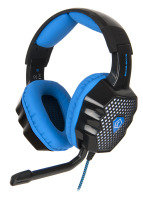 7.1 channel simulated sound
Built in led lights for different effects
Sensitivity: 111db +/- 3db at 1khz
Teamspeak certified
£ 19.97 inc. vat
£21.99
save £2.02
£16.64 ex. vat
£18.32
save £1.68
View Product
QuickFind: 630125 | Mfr part code: ESAB-90Y9
Advanced USB audio control box with built-in DSP sound card
7.1 virtual surround sound
Noise-cancelling microphone
PC, Mac, PS4, Xbox One and Mobile Compatibility
QuickFind: 699255 | Mfr part code: KHX-HSCP-RD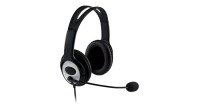 Enjoy superior reliability and clarity.
Listen and play for hours in total comfort
Get more room to move.
QuickFind: 409034 | Mfr part code: JUG-00014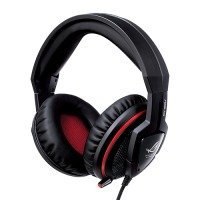 True to life in-game audio detail with big 50mm neodymium magnet...
Full battlefield focus with effective 30dB noise isolation
£ 69.10 inc. vat
£71.99
save £2.89
£57.58 ex. vat
£59.99
save £2.41
View Product
QuickFind: 419501 | Mfr part code: 90-YAHI8110-UA00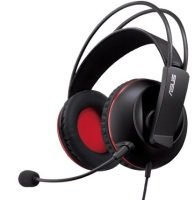 Headphones Form Factor: Full size
Connectivity Technology: Wired
Sound Output Mode: Stereo
Frequency Response: 20 - 20000 Hz
QuickFind: 625684 | Mfr part code: 90YH0061-B1UA00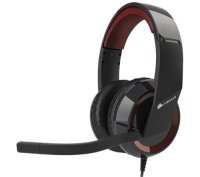 40 mm Neodymium For Excellent Sound
Noise Cancelling Microphone
Padded Cushions & Headband For Comfort
PC, Mac, PlayStation 4 and most mobile devices Compatible
QuickFind: 660957 | Mfr part code: CA-9011121-EU-Y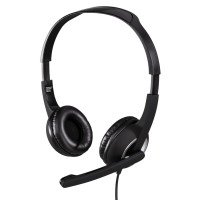 On-ear stereo headset
Being ultra light, the headset is very comfortable to wear
Microphone arm for vertical positioning
Adjustable headband
QuickFind: 785791 | Mfr part code: 00053982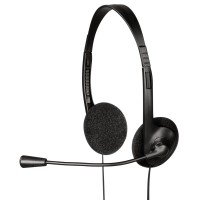 Universal stereo headset with a 3.5 mm jack
Especially suitable for voice recognition, video/telephone...
One 3.5 mm jack plug each for microphone and headphones
QuickFind: 785824 | Mfr part code: 00053999
Return to top
Versatility
Headsets are such a useful piece of kit and many of us will use a set regularly. They are ideal for Skype and online video chatting but can also be used with voice recognition software and similar applications. Headsets are also ideal for internet telephony as they allow the user to communicate whilst leaving both hands free to type or check records on a computer.
Headsets can also of course be used for simply listening to music and videos. If you are intending to use them for this purpose it may be advisable to choose a set with a retractable microphone.
Choosing A Headset
Headsets come in a variety of styles and specifications and are priced to suit every budget. If you only intend to use the headset for Skyping family and friends a lower specification budget model will be perfectly adequate. But, for business chat or if you require better sound production, a higher specification set would be the better solution.
No matter what you will be using your headset for we have models from all the leading brand names including Element Gaming, Creative, Sennheiser and Plantronics amongst many others.
Gaming Headsets
Online gaming is becoming hugely popular and, here at Ebuyer.com, we have gaming headsets from all the leading manufacturers including Mad Catz and Turtle Beach. And, for successful online gaming, a good quality headset is essential.
They must not only provide crystal clear communication but gaming headsets must also have excellent noise cancelling properties. They also need to be very sensitive so the gamer can hear everything that is going on in the game. Finally they must be comfortable to wear as they will be worn for prolonged periods of gameplay.