Smart Switches
The right choice of smart switch can be vital in ensuring that your network performs to its very best, while also giving the opportunity to connect more wired devices to your system with ease.
Each item linked to the switch becomes automatically part of the same network. For example, if you link your modem up to a router, then to a switch, other items connected to that switch will also be able to access the internet.
There are various options available on the market, meaning that you are highly likely to find a model that is right for you and your needs.
Read more...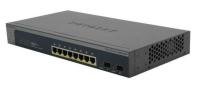 10-port Gigabit Ethernet
PoE+
QuickFind: 344982 | Mfr part code: GS510TP-100EUS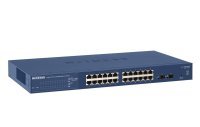 24x 10/100/1000 ports
2x mini GBIC (SFP) slots
VLAN support
QuickFind: 612265 | Mfr part code: GS724T-400EUS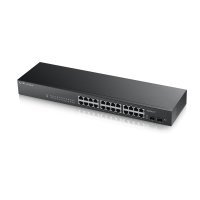 Easy browser-based switch management
Fanless design for quiet deployment
Smart Managed Switch for desktop Gigabit connectivity
QuickFind: 625755 | Mfr part code: GS1900-24-GB0101F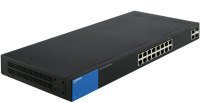 16 x Gigabit Ethernet ports
2 x SFP Ports
Easy configuration and management
Proven performance and reliability
QuickFind: 630158 | Mfr part code: LGS318-UK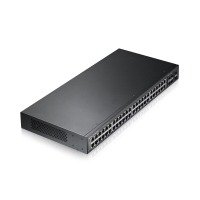 44 x GbE RJ-45 Ports
2 x GBE SFP Ports
4 x GbE Combo (RJ-45/SFP) Ports
QuickFind: 655480 | Mfr part code: GS1920-48-GB0101F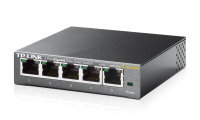 5 10/100/1000Mbps RJ45 ports
Provides network monitoring, traffic prioritization and VLAN...
Innovative energy-efficient technology reduces power output by up to...
QuickFind: 660500 | Mfr part code: TL-SG105E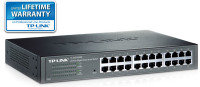 Switch - 24 x 10/100/1000
Rack-mountable
Simple network set-up on top of plug-and-play connectivity
QuickFind: 507587 | Mfr part code: TL-SG1024DE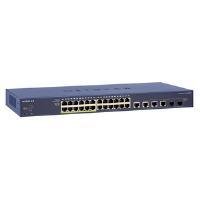 Smart Switch with 12 PoE Ports
24 Port 10/100
Bandwidth: 8.8 Gbps
QuickFind: 567301 | Mfr part code: FS728TLP-100EUS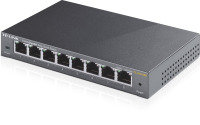 8 10/100/1000Mbps auto-negotiation RJ45 ports supporting...
IEEE 802.3x flow control provides reliable data transfer
Steel housing, desktop or wall-mounting design
QuickFind: 641041 | Mfr part code: TL-SG108E
QuickFind: 126594 | Mfr part code: FS728TP-100EUS

QuickFind: 244588 | Mfr part code: DES-1210-28

01430 433 671 or Solutions@Ebuyer.com
16 x 10/100/1000 + 2 x combo Gigabit SF
Managed
Desktop
QuickFind: 255585 | Mfr part code: SLM2016T-UK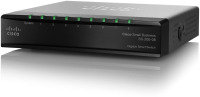 8 x 10/100/1000
Managed
IPv6 support
Easy configuration and management
QuickFind: 264288 | Mfr part code: SLM2008T-UK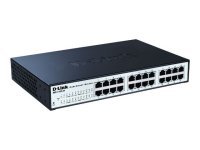 QuickFind: 275598 | Mfr part code: DGS-1100-24

For Networking advice email solutions@ebuyer.com
Switch
24 Ports
QuickFind: 341115 | Mfr part code: TEG-S24G
Return to top
The GS19110 series is ideal for fulfilling the needs of almost any small or medium business (SMB), due to a cost-effective and valuable framework.
It offers access security, advanced prioritisation, traffic monitoring capabilities and a fanless design.
There is even support for smooth IPv6 migration, for when the time comes to expand the number of devices within your network.
Another option is the Cisco SG500-52, which features a total of 52 ports, including two combination ports and two small form-factor pluggable (SFP) ports that offer a solid foundation for almost all of your business applications.
True stacking, advanced security, quality of service, and energy-saving technology (EEE) all help to deliver the level of reliability and performance needed in even the most demanding of commercial environments.
The switch is easy to install and also comes with a choice of management tools, providing you with the ideal technological foundation at an affordable price.
The HP V1910 Series is an ideal solution for any SMB looking for an advanced networking device that is also easy to use. These smart-managed switches offer various advanced features, including layer 3 static routing, access control lists, QoS traffic prioritisation and Power over Ethernet models.
Another reliable option is the 48-port Gigabit Switch TL-SG1048, which is an easy-to-use switch that offers 8 10/100/1000Mbps ports.
Its user-friendly design, combined with its high level of performance, gives this model exceptional value for money.
Improve the connectivity of your network devices with a smart switch from ebuyer.com